The 12th Anniversary Conference of the
Asia-Pacific Network for Moral Education (APNME)

Conference Theme:
Moral Education: Conflicting Values and Common Ground
Thursday, 26 April to Monday, 30 April 2018
Kaohsiung Normal University, Kaohsiung, Taiwan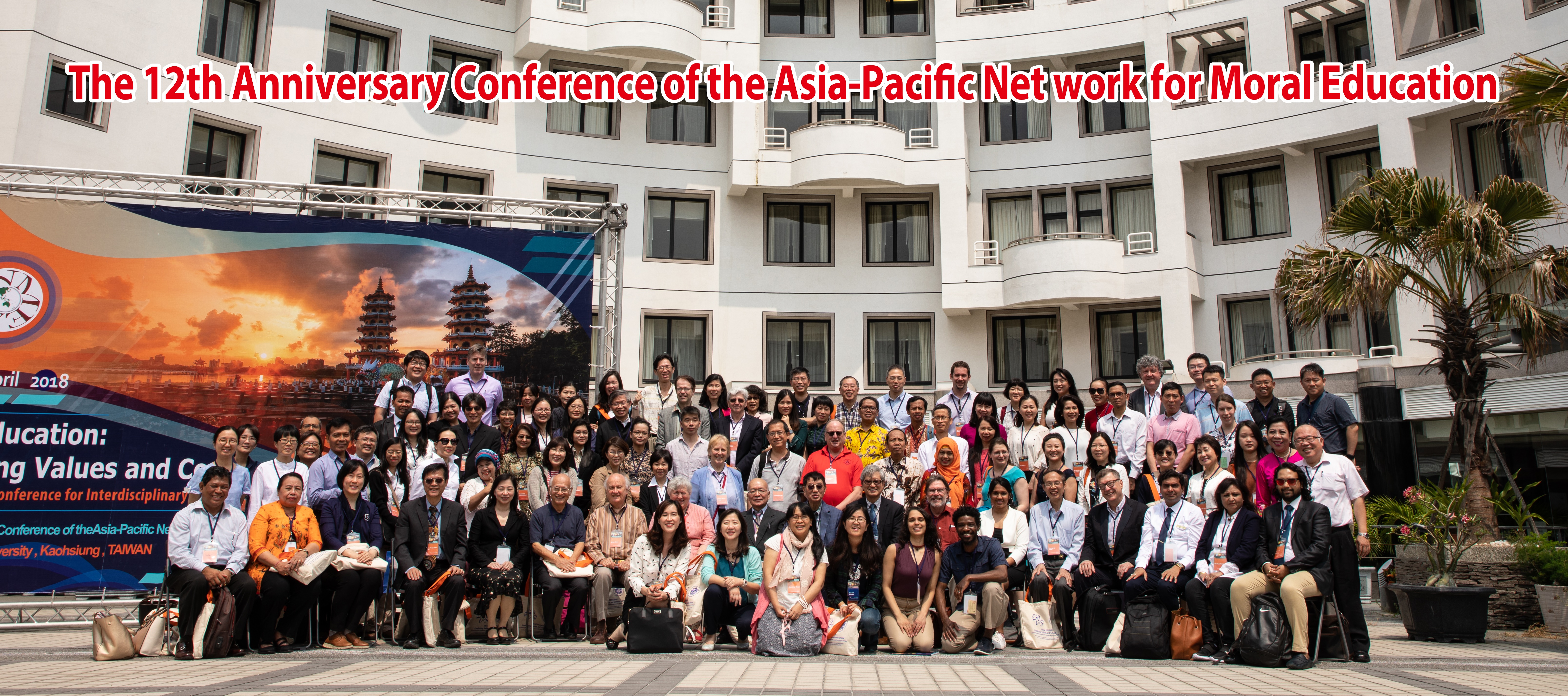 Welcome to Kaohsiung, Taiwan!
The 2018 conference of the APNME will take place in Kaohsiung, the second largest city in Taiwan, from April 26 (Thursday) to April 30 (Monday). Educators and researchers who are interested in exploring and fostering the role played by moral values in education are warmly invited to join us for this special occasion.
Kaohsiung is one of the oldest cities in Taiwan. Beginning from1661, settlers from Mainland built their homes in this area and gradually developed villages and towns that later expanded to become today's metropolis. The Taiwan straits are located to the west of the city and the Bashi Channel to its south. Kaoshiung has a deep natural harbor which enabled it to develop over the centuries as a shipping port, and today the city is an important commercial center along the Northeast Asia/South Pacific route. Thus, in addition to its vast downtown area, Kaoshiung has the vitality of its port and nearby ocean. It also has rich natural resources including fields and gardens, nearby forests, mountains and hot springs. Modern Kaohsiung is home to a multicultural society with its mix of Hoklo (Minna), Hakka and indigenous peoples, and together they have created a very special atmosphere in this old southern city.
(http://khh.travel/Article.aspx?a=32&l=2)
Conference Theme:
Moral Education: Conflicting Values and Common Ground
Moral education was greatly emphasized in the ancient Asia-Pacific region. Several significant cultural, philosophical and religious traditions, such as those of Confucianism and Buddhism as well as Christianity and Islam, have long co-existed in this region. Very recently, the Internet and social media appear to be having a strong influence. How have these various beliefs and orientations impacted the theory and practice of moral education in the different cultures of the Asia-Pacific region? Also: What is going to be the effect on moral education of what is apparently the recent rise of nationalism (inward-turning, isolationism) on the part of some countries and communities?

Based upon the aims of the APNME, this conference welcomes participants from various disciplines and cultural backgrounds whose papers or presentations will be concerned with the following issues:
Cultural diversity and traditional ethical issues. The latter are concerned with definitions not just of "goodness" but also of "happiness" and "wellbeing" from the viewpoints of various cultural and religious systems (at individual as well as societal levels). How have such concepts influenced the cultivation of morality in these different systems? How can we seek a common ground that may facilitate cross-cultural understanding and can be used to improve moral education?

The nature of "ethical dilemmas" in both Western and Asia-Pacific cultures, and the degree to which the nature of these dilemmas may differ. This raises the question of the relevance of Western philosophical and psychological theories and approaches to the Asia-Pacific context. Thus we still need to try to identify the core values that are present in different moral and cultural contexts.

To what extent are moral values a product of religion and/or culture? What about the natural world? May not animals have demonstrated "moral" behavior long before there were human beings? Perhaps by observing them we can gain a deeper insight into the meaning of moral behavior?

How can we, in a moral education context, understand the conflicting moral and cultural values of diverse cultural systems? These would include the Confucian "Ren," Buddhist "Buddhahood," the Daoist "Dao," the nature of the Supreme Being that is fundamental to Christianity and Islam, and the plural natures of the Gods and Goddesses of Hinduism. What may be the role of moral education in this wider context?

What may be the fundamental role of moral education in the context of ethnic minorities and also with regard to the non-human members of our natural environment—our plants and animals? How can the fundamentally important moral component be further emphasized in ecological education?

To what extent are moral education and citizenship or civic education compatible? Does acting morally mean more than just obeying the civic norms of a given nation or community? If so, when might it mean this?

What should be the role of moral education in a highly computerized, digitalized era? How can moral education be most effectively introduced and practiced in a world where information technology is rapidly expanding? Can modern technology be used to enhance moral education?
Whilst priority will be given to presentations addressing these topics, any that are concerned with moral and civic education will be welcomed. We sincerely welcome to our conference all those who care about exploring and enhancing the role of moral education, through theory and practice, in the Asia-Pacific region and in the world.

Details about the submission of abstracts can be found in the Call for Proposals. Guided by this theme, we will reflect on and discuss how best to enhance moral values education in the Asia Pacific region and globally.

The conference will begin after lunch on Thursday, April 26 with two pre-conference workshops. The opening ceremony will be held on Friday morning, April 27. The APNME committee and JME editorial board may select some excellent conference papers for publication in the Journal of Moral Education, a leading international journal in this field.
In the plenary sessions there will be keynote speeches—by Prof. Chung-Ying Cheng, Prof. Vincent Shen, Prof. Owen Flanagen, and Prof. Shen-Keng Yang—and roundtable discussions led by Prof. Fan-Sen Wang, Prof. Kwang-Kuo Hwang, Prof. Jien-Ming Jue, Prof. Brian Gates, Prof. Kristjan Kristjansson, and Prof. Wiel Veuglers. The Plenary Speakers are all excellent scholars in such fields as moral education, civic education, comparative ethics, and Confucian ethics.
Important Dates to keep in mind:

September 15, 2017 – Deadline for Abstract Submissions
October 15, 2017–Extended Deadline for Abstract Submissions
November 15, 2017 – Notification of Acceptance of Abstracts
January 31, 2018 – Deadline for Early Bird Registration
March 10 , 2018 – Deadline for Registration (Note: If you register after the deadline,you may not be able to get the conference kit or conference bag.)
April 26 to April 30, 2018 – APNME Conference
The Conference programme will be posted on the website. It will include paper presentations, symposia, posters, the keynote speeches and roundtable discussions, and will also allow for free time to see the sights of Kaohsiung. The conference Banquet Dinner will take place in the city's 85 Sky Tower. Details about the banquet can be found on the website under the Social Programme menu.