Liantan Conference Center within the Garden Villa Hotel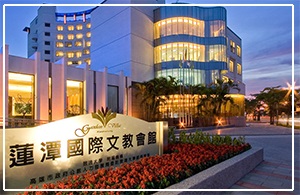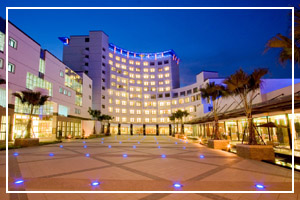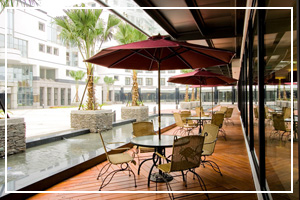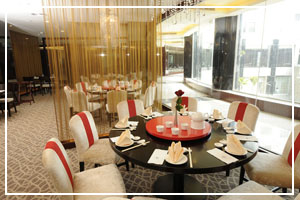 The Garden Villa Hotel is located in the heart of the municipality of Kaohsiung City and has the most beautiful view of the Lotus Pond (Lian-chi-tan) in Kaohsiung. Within 1 kilometer are Zuoying Station on the Taiwan High Speed Rail line (around 1000 meters away), Kaohsiung MRT Station (around 700 meters away), Zouying Railway Station (around 300 meters away), and the entrances to the national highway, the Kaohsiung arena, the Hanshin Department Store, and the Shin Kong Mitsukoshi Department Store.
Near the Garden Villa (just across a long overhead flyover from the Lotus Pond), the Lotus Pond (Lian-chi-tan) has several very traditional scenic areas, and visitors can learn about Taiwan's traditional Chinese culture there. There are pavilions by the beach, massive statues of gods, and the old city surrounded by the city wall. The Longhu Tower (Dragon Tiger Tower) is the most famous scenic spot in the Lotus Pond; the tower is seven stories tall, and the dragon and tiger doors are its entrance and exit. Its walls are decorated with koji pottery and depict some old stories about virtues such as loyalty and filial piety. There is a rule to follow when visiting the Longhu Tower: enter at the dragon's mouth and exit from the tiger's mouth, and you can avoid bad fortune and enjoy good luck. (Please see the website: http://khh.travel/Article.aspx?a=6891&l=2&stype=1059&sitem=4140 )
Another famous scenic spot is the Confucius Temple, situated on the northern side of the Lotus Pond. This temple was built in imitation of China's Song Dynasty architecture, and in the style of the Qufu Temple in Shandong. It contains a bronze relief depicting the life of Confucius, and the four characters "Wan Ren Gong Qiang" on the wall praise the height and depth of Confucius' great learning and virtue. This is the largest Confucius Temple in Taiwan, and it has a majestic, solemn, venerable exterior. (Please see the website: http://khh.travel/Article.aspx?a=6455&l=2&stype=1059&sitem=4140 )
The conference venue is approximately 20-30 minutes (18.6 km) from Kaohsiung International Airport by taxi. It takes about 18 minutes (16 km) on the Kaohsiung MRT to get from the Kaohsiung International Airport to the Ecological District, from which you need to walk for 10 minutes (700 meters) to reach the conference venue. See the maps below.
Buffet lunch in the Garden Villa: 660 NT dollars (approx. 22 USD) or 770 NT dollars (approx. 26 USD) for weekends per person/per meal.
Medium-Sized Meeting Room

Medium-Sized Meeting Room

Interior of the Conference Building

Large Meeting Room Grand Auditorium