Conference Venues
The 8th Annual APNME Conference will be held in the campus of Yogyakarta State University and in Royal Ambarrukmo Hotel Yogyakarta (other than a visit to a nearby school).  These two venues are close to each other and the Local Organising Committee will arrange shuttle buses to the conference venues from the two recommended hotels.
Universitas Negeri Yogyakarta (Yogyakarta State University) is one of most prestigious universities of education in Indonesia.  It currently has about 1,350 lecturers and serves some 35,000 students studying in 7 faculties and 1 graduate school on a total of 82 study programmes.  The opening plenary, first parallel session and welcome dinner of the conference will take place in the Ballroom of the Yogyakarta State University Hotel (UNY Hotel) which is located on the University Campus.
Yogyakarta State University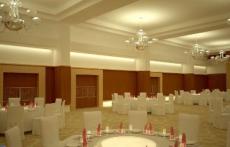 Ballroom of Yogyakarta State University Hotel (UNY Hotel): 
Venue for Opening Ceremony and Welcome Dinner Reception
Royal Ambarrukmo Hotel was the first luxury hotel in the area when it opened in 1966 as the Ambarrukmo Palace Hotel, and, following a period of closure and extensive renovation, it recently re-opened as the Royal Ambarrukmo Hotel.  It is centrally located and, blending modern facilities with its classical heritage, occupies part of the site of Kedaton Ambarrukmo, a royal residence built in 1857 by the Sultan of Yogyakarta, Sri Sultan Hamengkubuwono VI.
The address of the hotel is:
Royal Ambarrukmo Hotel
Jalan Laksda Adisucipto No 81
Yogyakarta 55282
Indonesia
Tel:  +62-274-488488