Conference Highlights
Download photo pdf 2.26 mb
» Conference Proceedings and Programme

Conference Highlights
The Asia-Pacific Network for Moral Education
Eighth Annual Conference
26-30 June 2013
Yogyakarta State University, Yogyakarta, Indonesia
Learning from Diversity and Commonality:
Ways Forward for Moral Education in the Asia-Pacific.
APNME's 8th Annual Conference, hosted by the Yogyakarta State University in the cultural heartland of Java, brought together around 160 participants of whom about 50 were international delegates from 13 different countries or territories, including in Europe and North America as well as the Asia-Pacific region.  This was the first APNME conference to take place in the southern hemisphere and it was a delight that it attracted so many enthusiastic moral educators from Indonesia, as the country playing host to an APNME conference for the first time.
The conference began with a warm welcome by the Rector of Yogyakarta State University, Professor Rochmat Wahab, who then formally opened the proceedings on behalf of the Minister of Education and Culture of the Republic of Indonesia.
Under the overall conference theme of "Learning from Diversity and Commonality:  Ways Forward for Moral Education in the Asia-Pacific" an insightful plenary address was delivered by M. Amin Abdullah, a professor of philosophy and Islamic studies and former Rector at the State Islamic University (UIN) in Yogyakarta.  He grounded international participants in the local context with his presentation on "Establishing a Foundation for Harmony amongst Diverse Communities: the Indonesian Experience", explaining the religious and cultural plurality within the country, both historically and in contemporary society, and how education has responded to this.
School visits have become a popular feature of APNME conferences and this year participants had the choice of visiting an Islamic School, a Catholic School or one of four state schools.  Each visit included a briefing about the school and its place within the overall Indonesian education system, observing one of the school's teachers conducting a class of or related to moral education and then a discussion about the class, as well as more informal interaction with teachers and students over refreshments and some cultural presentations by the students.  The visits provided a practical context for the formal sessions of the conference and were followed by a plenary session during which teachers and students from each school were invited to share their reflections on and to discuss the class that conference participants had observed.
The majority of the conference sessions were dedicated to presentations by participants and there were nearly 60 paper presentations, one symposium and one roundtable discussion.  For the first time, presenters were given the opportunity of requesting a 45-minute slot for their presentation in order to allow time for more in-depth exploration and discussion of their chosen topic.  Presentations stimulated plenty of dialogue and interaction, which often carried on over mealtimes and while mingling during regular coffee breaks, which were great for networking as well as sampling the tasty local cuisine!  The poster session attracted a very high quality of posters, of which there were 13 in all, and the APNME annual Best Poster Prize was awarded to Slamet Suyanto of Yogyakarta State University.
Yogyakarta lives and breathes the rich Javanese culture and our hosts left no stone unturned in providing a wonderful cultural experience for all participants with an array of dances and musical numbers by students from the University's Faculty of Arts and Languages.  The main occasion for these was the Gala dinner held in the magnificent pendopo (open-sided pavilion) built in 1857 by the Sultan of Yogyakarta as part of his royal residence, the Kedaton Ambarrukmo.  The following evening took participants further into Javanese classical heritage with an open-air ballet performance of the ancient Sanskrit epic of the Ramayana with the 9th century Hindu Prambanan Temples as an evocative and mystical backdrop.
A new component of this year's conference was the APNME Community Forum, a 90-minute session which made use of the participatory approach of Open Space Technology to assist participants in self-organising themselves into groups to discuss themes that they proposed and chose themselves.  Gathering in small dialogue groups, participants spoke about themes such as "Moral education policy", "Joint research projects" and "Harmonious moral education between parents, school and society" and the Forum provided a useful opportunity for focused networking and the formation of interest groups in purposeful yet relaxed atmosphere.
All too soon, the conference came to an end, but before the farewell hugs and good-byes participants reflected on and evaluated their days together, with the following being some of the comments and thoughts shared:
The hospitality of the hosts, the smiling warmth from everyone here has created a relaxed and joyful learning environment.  Wonderful to meet so many people from many backgrounds.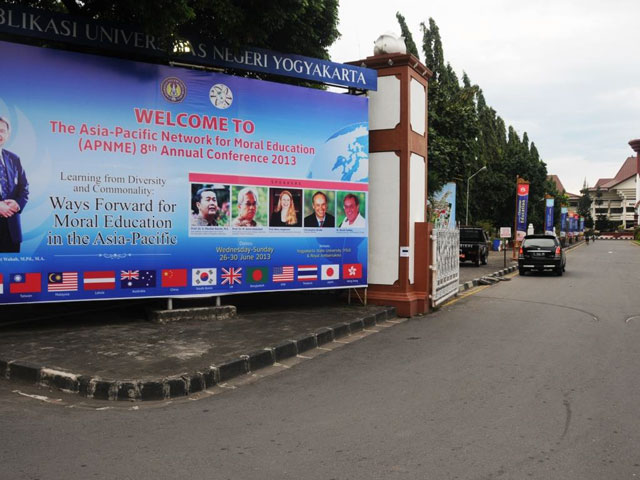 This is a really wonderful opportunity for all of us who are working in an isolated way to come together and feel safe enough sometimes to be constructively critical of each other's work.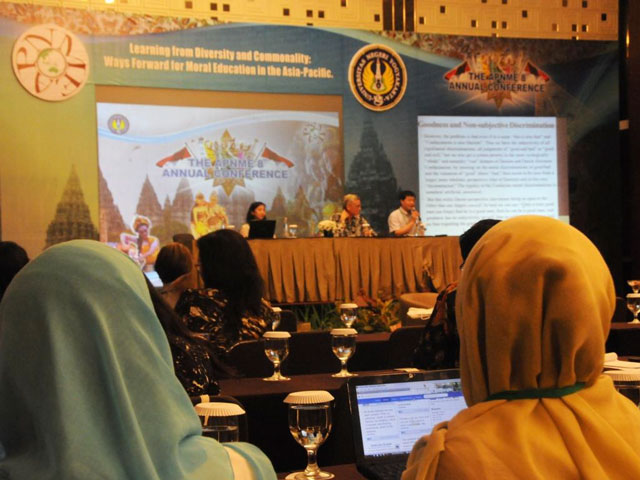 This has been an excellent and wonderful occasion.  It is really the best we have had so far.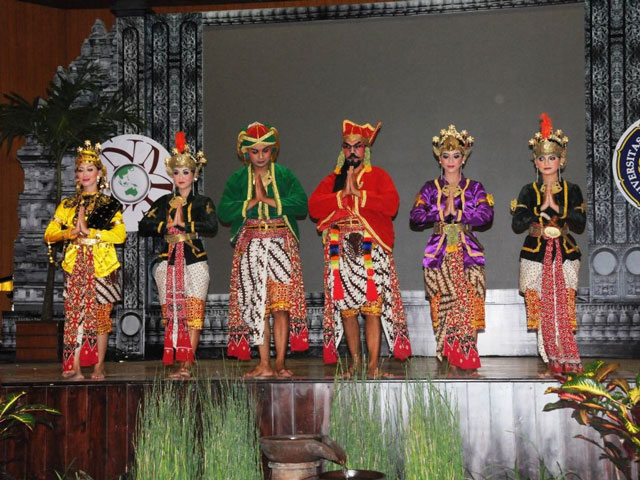 The world sometimes refers to Indonesia as a developing country, and that it is an Islamic country, and so with regard to holding a conference here, it might be thought that it might not work so well.  But this is a very warm and caring environment.  Even though we question and disagree, nevertheless Indonesia already has very good things in place, of how to be with each other, the generosity of spirit.  This is my first visit to Indonesia and this is an impression I will take away with me.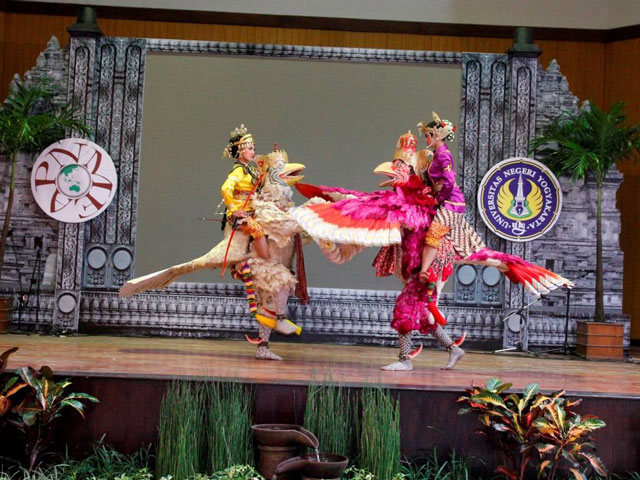 I congratulate the organisers.  I have learned a lot, and I will come back for the next conference.  It is lovely to have 20 minutes for a presentation and 10 minutes discussion.  The programme has been very well organised with paper themes being organised to be presented in one room.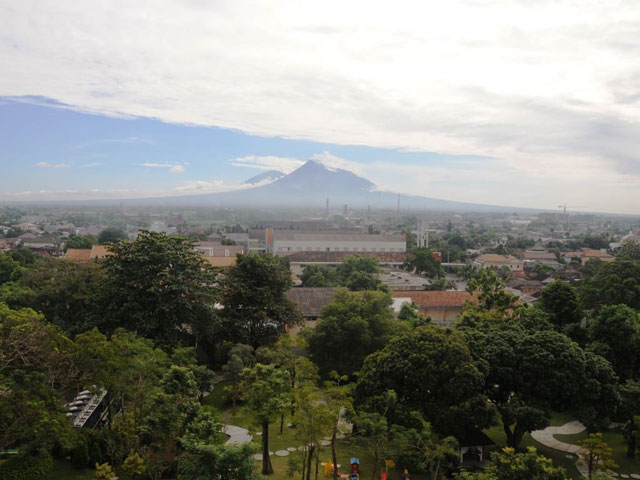 This is my first international conference, first trip overseas alone and first trip to Asia.  All have been fantastic.  Thanks to the committee, the welcoming to a woman travelling alone; I understood where I needed to be and when.  I am going home with a bag full of cards and contacts, looking at partnership schools, projects and possibilities.  Another aspect was the school visit.  Sometimes conferences are academics talking to each other, so it was good to go out and actually be in a school environment.  What I am taking home about education is the commonality in countries:  we are facing the same challenges and have the same aspirations.
Warm greetings and friendly kindness was the first impression.  This is the first time I am in this culture, and I will share Indonesian culture back home.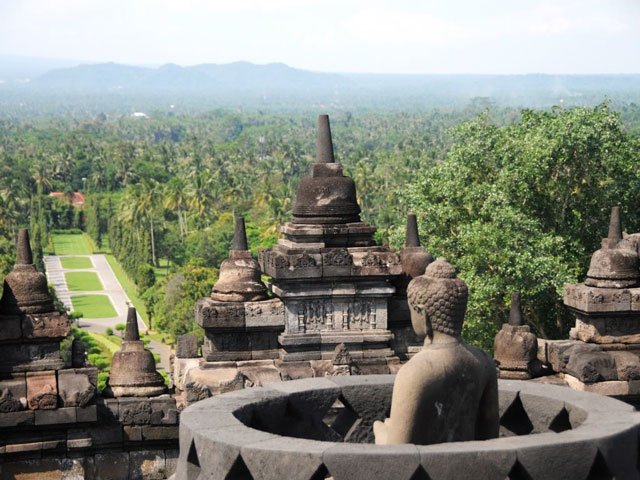 Life should be harmonious, between man and God, man and man, man with human nature.  The King always emphasised these four values in every speech he made.  Whoever enters this province is part of us and we have to embrace them body and soul so they are at home here.  We have to observe this and we hope you have felt this.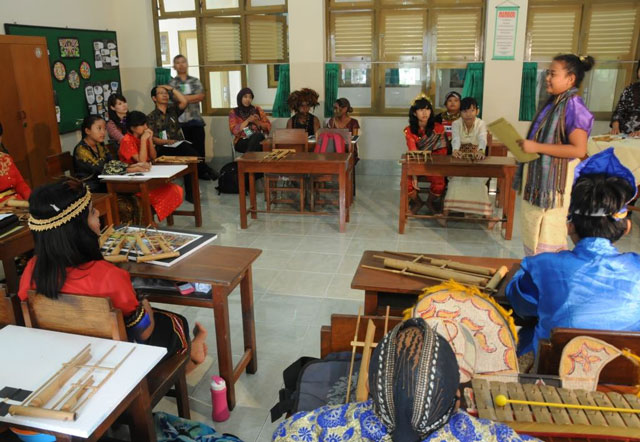 There was an open, friendly exchange of ideas with an international perspective or opportunity to build an international network; the school visit was excellent.